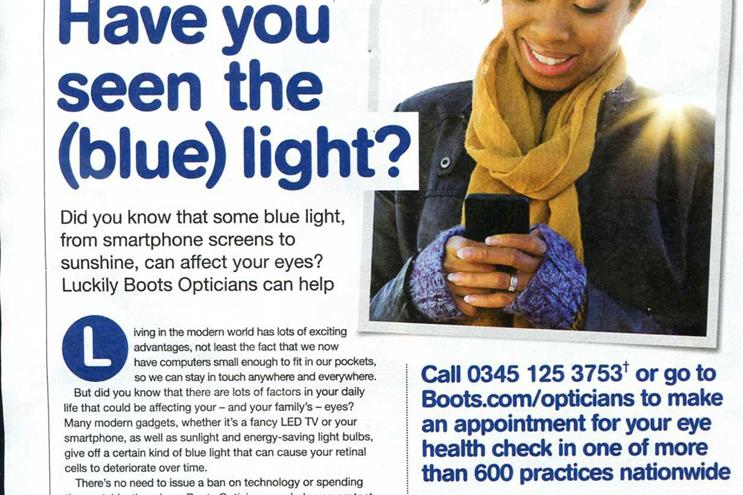 The national press ad contained text stating, "Have you seen the (blue) light? ... Did you know that some blue light, from smartphone screens to sunshine, can affect your eyes?"
It also claimed light from LED TVs and energy-saving bulbs cause damage to retinal cells over time.
The ad promoted the Boots Protect Plus Blue lenses, which it claims can "filter out the harmful blue light and ease eye strain and fatigue".
A pharmacist and one other complainant questioned whether the claims were misleading and could be substantiated.
Boots submitted evidence to support its claims, however the ad watchdog ruled there was "one single study" that confirmed sunlight and not the harmful blue light could lead to the early onset of age-related macular degeneration.
The ASA ruled: "Boots did not provide evidence that a modest 20 per cent reduction in the amount of harmful blue light entering the eye would lead to a significant reduction in the amount of retinal damage caused by exposure, as implied by the ad.
"In the context of an ad which purported that harmful blue light was damaging to retinal cells and implied that the majority, if not all, harmful blue light was filtered out by Boots' lens coating before it reached the retina, we did not consider the evidence was adequate to support the implied claim made."
The regulator concluded that the ad was misleading and should not appear again in its current form.