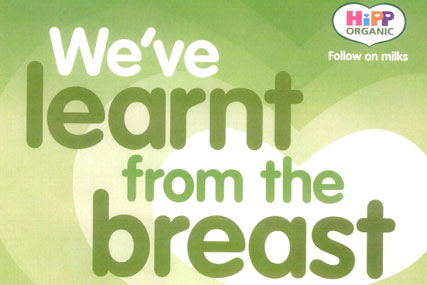 A magazine ad for the follow-on milk was headlined "We've learnt from the breast".
Accompanying text said: "Praebiotik to support healthy digestion … Breastmilk contains many special ingredients, including prebiotics and Omega 3, which are proven to be beneficial for babies.
"Our gentle follow on milk has now been specially formulated with praebiotik, a unique mix of prebiotic oligosaccharides. These support the growth of good bacteria in your baby's tummy and promote comfortable digestion… All this ensures organic goodness to complement Mother Nature's good work. Trust your natural instincts".
The complainant challenged whether the ad was misleading because it implied the product was equivalent to breast milk.
The ASA also challenged whether the claim "essential Omega 3 fatty acids ... for healthy brain and nervous system development" was misleading and could be substantiated.
Hipp Organic protested the "We've learnt from the breast" copy demonstrated that they held breast milk in high esteem as the best food for babies.
The company said baby milk companies and academic institutions had invested "a lot of time and money" researching the specific qualities of breast milk that made it the best. They said they had learnt from that research and had therefore added some of the beneficial components of breast milk to their formulas.
The ASA told Hipp not to use claims in future that referred to children's development and health and that did not comply with regulation.