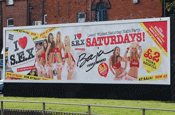 The poster featured the headline alongside images of scantily clad young women as well as promotions for alcoholic drinks £1 shots! Sambuca – Tequila – Yes!

The complainant challenged whether the ad was offensive in its use of images of women and of the slogan "I love S.E.X.", especially as it was in a location that was accessible to children.

The ASA found the ad to be irresponsible in its visual conjoining of sex and alcohol.


The nightclub, Taking Liberties, said the ad would not be repeated after its week's run during the local university's Freshers' week.


The club argued that the I love S.E.X. theme was based upon well-known brand I love New York and did not believe it to be sexual in nature.


The ASA noted that although the ad may not cause widespread offence, its use of alcoholic promotions with images of women dressed in mini skirts and crop tops was seen to be linking alcohol with sexual activity.


The ad must not appear again in its current form.