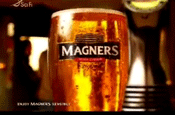 The voice-over in the ad stated: It's the perfect ice breaker. Making sure the conversation flows, in the time it takes to create a cool, crisp pint. The ad ends with a man picking up the pint and turning to talk to a group of friends.
The ASA noted that although the ad did not exhibit excessive drinking, the voice-over used in conjunction with the man and his friends carried a clear implication that drinking Magners could help create a successful social occasion.
The ad must not be shown again in its current form.
The ASA also ruled that an LCD poster featuring Christmas deals at Play.com was not in breach of the CAP Code.
Complainants had challenged whether the ad was misleading due to its small print being unreadable.