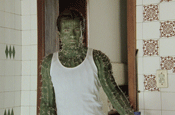 The ruling by the Advertising Standards Authority means that the ads, created by Mother, can no longer be broadcast in their current form.

The ASA backed the 32 complaints against the spots, which feature a young American girl and her boyfriend who has green skin and is covered in cactus spikes.

In one ad, the girl says of her mother: "She 'bout turned white as a sheet when I told her I was fixing to have his baby/"

In another, she claims her boyfriend "would no sooner try and milk a she-wolf than touch a glass of water".

Viewers complained the ads were not only offensive but harmful because they condoned teenage pregnancy and suggested Oasis was a substitute for water, contrary to good dietary practice.

Coca-Cola said the ads were shot in the style of American road movies that were part of popular culture and enjoyed by the drink's target audience. It claimed they were more likely to be viewed as a film trailer than a reflection of real life.

Meanwhile, the latest battle in the long-running war between Procter & Gamble and Kimberly-Clark over their rival nappy brands has ended with a defeat for the world's biggest advertiser.

The ASA upheld a complaint by Kimberly-Clark over a magazine ad for P&G's Pampers Secure-Me Fit nappies, which claimed the product provided "the most secure fit after your mum's arms".

Kimberly-Clark claimed its Huggies Newborn brand performed just as well in tests.

The ASA's ruling comes a year after a US federal judge threw out a P&G bid to stop a TV ad for Huggies Natural Fit.

P&G had filed a false advertising suit, saying the campaign was similar to one that Kimberly-Clark had previously pulled because its claims were not adequately supported.