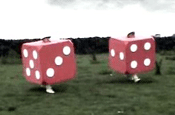 Staff from the Advertising Standards Authority monitored a number of ads in the two months following the introduction of the Gambling Act in September last year.
It found against two campaigns for gambling operators Intercasino and Paddy Power.
A spokeswoman for the ASA said: "The two adjudications demonstrate that ASA is rigorously administering the new gambling advertising codes to ensure that gambling ads are socially responsible and do not appeal to young people."
The Intercasino campaign showed on TV, featuring four spots with a Japanese TV game show theme.
The ASA ruled that the "slapstick humour" and sound effects in the ad were likely to appeal to children and young people.
It also said that the use of dwarves in the ad also meant it was more likely to appeal to this group.
It recommended that the ads not be shown again.
The second ad ruled on today was a national press campaign for Paddy Power's financial spread betting service.
The ad showed a short man in the back of a stretch limousine holding a glass of champagne and a cigar, and flanked by two glamorous-looking women.
The strapline ran: "Who says you can't make money being short?"
The authority ruled that the ad "implied gambling was a way to improve self-esteem or gain recognition or admiration", and recommended its withdrawal.