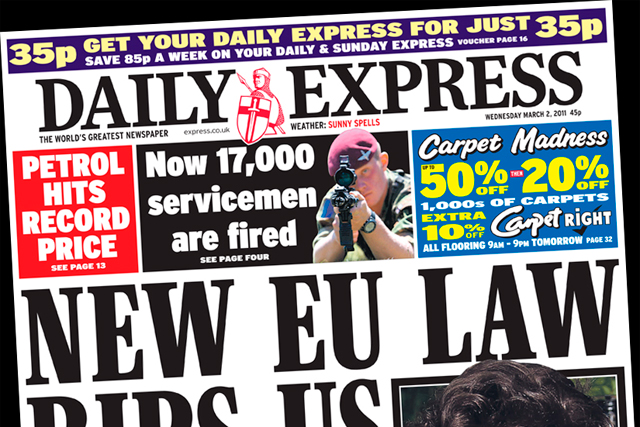 One of the promotional ads ran on the front page of the Daily Express in October 2010, promising a "Free Fisher-Price Trio toy for every reader at Toysrus & the Early Learning Centre".
The offer, created in-house, stated that customers could claim their Fisher-Price Trio toy at Early Learning Centres (ELC) from 16 October to 22 October.
The promotion was challenged as it was claimed the toy was not in stock at the Early Learning Centres.
Express Newspapers, the parent group of the Daily Express, defended itself by claiming Mattel, the toy's manufacturer, delivered the items in what it believed was "sufficient time" for the ELC to send the toys to their stores for the start of the promotion.
But problems arose because Mattel did not include the ELC promotions in its overall distribution to Mothercare, which owns ELC, leaving the stores short, although Mattel subsequently provided further stock at a later date.
ELC said they contacted each participating store to advise them to obtain the customers' details when they presented their Daily Express vouchers.
Summing up, the ASA said there was a lack of communication between Express Newspapers, Mattel and ELC, resulting in "the promotion going ahead when there was insufficient time or stock to satisfy demand".
The watchdog banned this promotion and a similar one that ran in the Sunday Express, sister title to the Daily Express, which offered readers a "free board game" from Argos, which normally sold at £19.99.
The promotion ran in November 2010 and was also created in-house.
In this case, readers again challenged the availability of the board game.
Daily Express claimed it estimated its response to the promotions on previous retail redemptions and believed they had enough stock to meet the response.
But the ASA disagreed and ruled the "Sunday Express and Argos had not demonstrated that they had made a reasonable estimate of demands for the board game and, moreover, had encouraged readers to purchase the Sunday Express as a precondition to obtaining the board game, when the number of items was limited."