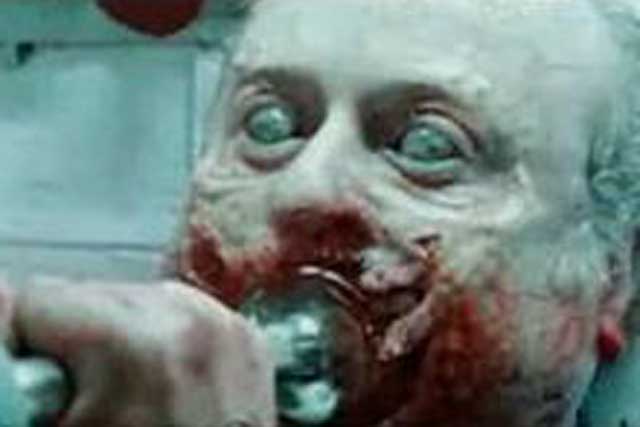 A video ad for 'Rec: Genesis' was aired on the Empire website and included a scene depicting a man pushing an industrial blender into a zombie's mouth and a woman cutting into a zombie's head with a chainsaw.
Complaints said the ad was "irresponsible, harmful and offensive" because of the excessive violence and gore. Concerns were also raised about the ad being aired before a trailer for family movie 'Man of Steel' on the same website.
Film distributor Entertainment One said the ad, created by Creative Advertising, had been placed on the Empire website because 99% of people who used the site were aged 18 or over.
However, the Advertising Standards Authority (ASA) has reprimanded Entertainment One for airing the ad before the 'Man of Steel' trailer because the Superman movie was likely to be seen by a younger audience.
As a result of the complaint, Empire Magazine has implemented new procedures. Trailers for 18-rated films now have to be submitted for editorial review to ensure similar ads will not appear on the site.
The ASA also banned the 'Rec: Genesis' ad from airing again in its current form because its graphic violence was likely to cause fear and distress, even though the zombie film was "removed from reality".
Meanwhile, television ads for Universal Pictures' crime thriller 'Savages', which stars Benicio Del Toro, John Travolta and Salma Hayek, have fallen foul of the ASA after being broadcasted before 8pm.
Creative by the Picture Production Company was deemed to covey a menacing and aggressive tone for combining physical violence with hip hop track 'Till I Collapse' by Eminem and Nate Dogg.
The ASA particularly objected to a scene showing actress Blake Lively being punched in the face while seemingly unable to defend herself.
Although Clearcast gave the ads a post 7.30pm restriction, the ad watchdog ruled it should have been given a post 9pm ban to prevent younger children from seeing it.
Universal Pictures has been told it can not broadcast the 'Savages' ad on TV again before 9pm.
Follow @mattchapmanuk