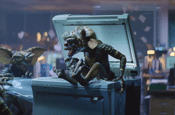 One provoked complaints that the ad encouraged or condoned parents letting their children use the internet unsupervised.

The other drew protests about the spot being shown when small children might be watching.

However, both sets of complaints were this week rejected by the Advertising Standards Authority.

Of the first ad, the latest in the series featuring the actor Kris Marshall and his adopted family, the ASA said it accepted that the voiceover made it clear the parents were concerned about the girl's welfare.

It added that it considered most viewers would not expect BT's Parental Controls software to protect their children from all online threats.

Commenting on the second commercial, the ASA said the gremlins were likely to be seen as funny rather than threatening. It also pointed out that the spot was already barred from being screened around programmes made specifically for or targeted at children.

The ASA also backed BT's complaints about a national press campaign for the Orange Home Max broadband and home phone package which claimed users could save more than £190 when they switched from BT.

The ASA ordered that the ad should be amended to make the price comparison clearer.

The ASA also rejected claims that a TV spot for Dettol Antibacterial Surface Cleanser was misleading, that posters promoting the Apple iPhone over-claimed about its reproduction capability and that a commercial for the Quingo mobility five-wheel mobility scooter made misleading claims about four-wheel models.