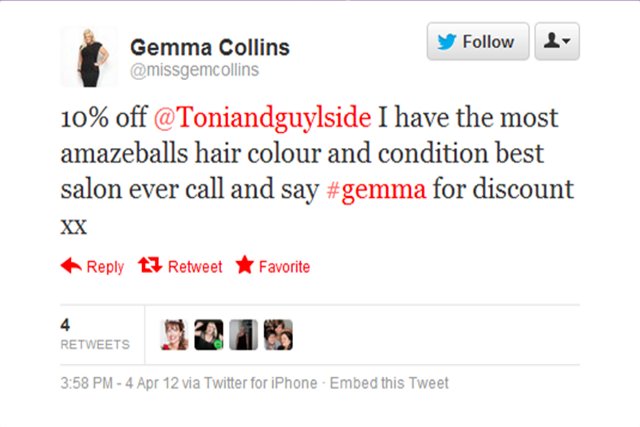 Three weeks after the ASA cracked down on tweets by Nike's brand ambassadors Wayne Rooney and Jack Wilshire – a decision Nike is appealing against – it has upheld a complaint relating to the hair salon chain.
The complaint challenged whether two messages from the Twitter account of a reality TV celebrity were marketing communications and should therefore be identified as such.
Gemma Collins, who has appeared on 'The Only Way Is Essex' and currently has over 500,000 followers, referred to Toni & Guy's Lakeside shopping centre salon.
One tweet read "In @Toniandguylside having such a wonderful time defo got my hair back to good condition 10% off call today and quote #gemma x".
The other read "10% off @toniandguylside I have the most amazeballs hair colour and condition best salon ever call and say #gemma for discount xx".
When contacted by the ASA Toni & Guy claimed Collins had visited for an appointment at which it decided to waive its charges, she had been pleased with the service and it was therefore suggested she tweet about it.
It claimed Collins had asked whether she should mention a discount and it was agreed a discount should be offered, that her tweets had been compiled by her on the spur of the moment and they were not part of any formal advertising campaign.
It believed that the mention of a 10% discount made it clear that the tweets were marketing communications.
The ASA's assessment was that users could have interpreted the tweets as referring to a pre-existing 10% off sales promotion, which Collins had herself taken advantage of on her visit.
It continued: "The tweets did encourage users to quote '#gemma' but, in the context of the whole tweets, users could have overlooked the significance of that or not understood that it related directly to Miss Collins.
"In the absence of an identifier such as '#ad', we considered the tweets were not obviously identifiable as Toni and Guy marketing communications and therefore concluded they had breached the Code."
The CAP Code requires ads not just to be identifiable as marketing communications but to be obviously identifiable as such, the ASA explained.
It ruled the ads must no longer appear and told Toni & Guy to ensure its advertising was obviously identifiable as such.
Toni & Guy had not responded to a request for comment at the time of publication.