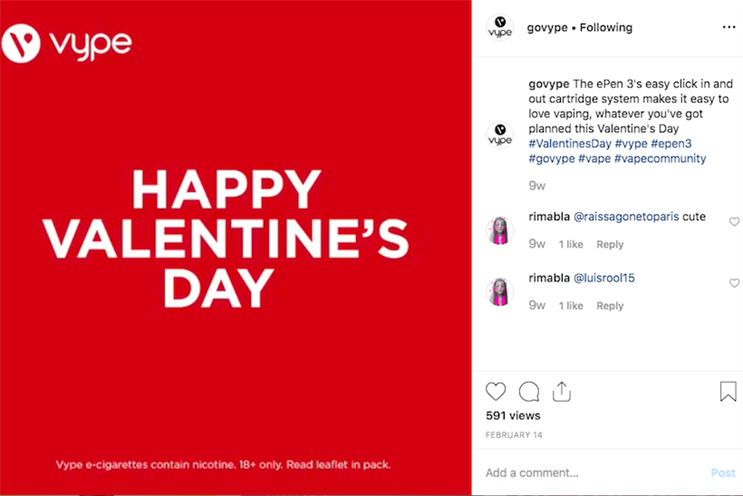 The Advertising Standards Authority has opened an investigation into seven Instagram posts made by British American Tobacco-owned e-cigarette brand Vype.
The ad watchdog confirmed that the posts were challenged by three anti-smoking pressure groups – Action on Smoking and Health, Campaign for Tobacco-Free Kids and Stopping Tobacco Organisations and Products.
According to an ASA spokesman, the groups have queried whether the posts break rules governing the promotion of unlicensed, nicotine-containing e-cigarettes on Instagram, whether they are likely to appeal to under-18s and whether one post features someone with an e-cigarette who appears to be under 25.
The Campaign for Tobacco-Free Kids, which has its headquarters in the US, has published its complaint to the ASA on its own website. The complaint cites 24 Vype posts it has taken exception to.
For example, it claims in the complaint: "BAT's use of popular social media hashtags such as '#throwbackthursday' or '#style' is irresponsible marketing under Rule 22.1 in that BAT certainly would understand the purpose and effect of using these terms is to maximize engagement with social media content well beyond those consumers who are interested in finding information about Vype – including children, teenagers, and non-nicotine or tobacco users."
The Campaign for Tobacco-Free Kids goes on to argue that BAT's social media accounts "should not be permitted on social media platforms because, unlike a website, the content is easily discoverable by any internet user and not just those consumers actively seeking Vype information".
The ASA spokesman confirmed that the seven posts being investigated all feature in the 24 highlighted by the Campaign for Tobacco-Free Kids.
The spokesman said: "The posts feature individuals holding e-cigarettes or just shots of e-cigarettes themselves with an array of taglines and hashtags such as #govype #vape #vapecommunity #vapenation #vapelife #vaper #vapestagram #instavape as well as text stating 'Vype e-cigarettes contain nicotine. 18+ only. Read leaflet in pack.'"
Will Hill, head of legal and external affairs at BAT, said: "As part of our efforts to make adult smokers aware of the new potentially lower-risk nicotine products available to them, we need to communicate via the channels that they are using – which clearly includes the online environment.
"However, the use of social media must be done responsibly and, as such, we have strict controls in place to ensure that our communications are appropriate, in line with current regulation and target adult smokers and vapers.

"Our response to the ASA will include independent data that we believe proves we take all reasonable measures to ensure our communications are targeted at adult smokers and vapers.

"It is disappointing that these three groups are attempting to influence the ASA's process by prejudging the outcome of an investigation they have not yet been able to complete. We believe the ASA's team should be given the chance to conclude their investigation before we comment further."
Vype's Instagram page is age-gated, with users needing to declare they are aged 18 or above to visit it.