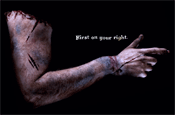 The posters, which appeared in the city, advertised an exhibition on William Wallace, and portrayed either a dismembered arm or leg with open wounds, oozing blood.

Three people complained to the Advertising Standards Authority that the posters were offensive, distressing and unsuitable for general display.

A ruling today by the ASA said: "Although we acknowledged that it was clear to adults that the posters represented a display at the Edinburgh Dungeon, we considered that the images could cause distress to young children, who were likely only to focus on the images and would not understand their meaning or that they were intended to be humorous."

Merlin Entertainments, which runs the attraction, said that the marketing material was intended to humorously portray the fact that Wallace was hung, drawn and quartered.

But the watchdog said the posters breached rules on decency and ordered them not to appear again in their current form.