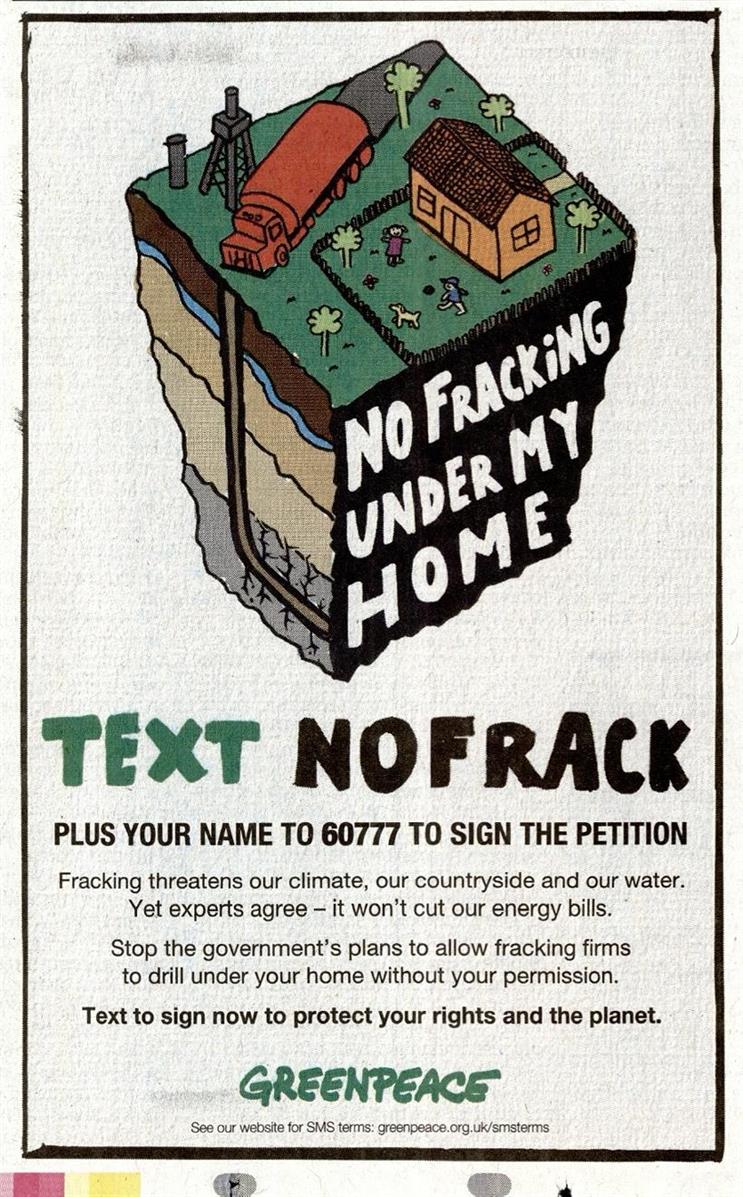 The ad, which appeared in The Guardian in January 2015, features an illustration of fracking taking place underneath a house with the text "No fracking under my home".
Underneath this, it states: "Fracking threatens our climate, our countryside and our water. Yet experts agree – it won't cut our energy bills."
A complaint was brought by Labour peer Lord Lipsey, a member of the House of Lords economic affairs committee, which had heard evidence on the impact of fracking in February 2014, and understood there were a range of views on whether fracking would reduce energy prices.
Greenpeace said that many experts had stated that fracking would not lower energy costs and the claim was made in light of that, provided a range of quotes and online information in support of this.
They also said that the phrase "experts agree" did not state or imply that all experts agreed – and that to limit their right to say so would be a breach of their right to freedom of expression under the European Convention on Human Rights.
The Advertising Standards Authority originally disagreed, saying that the claim would be taken by readers to mean that there was a general consensus among most experts that fracking would not affect energy prices – but citing evidence suggesting that a range of views existed on the matter.
But after Greenpeace appealed the decision, the ASA decided that it had made the ruling in error – and that a "general consensus" did exist that a meaningful reduction in UK domestic energy bills was highly unlikely, or would be limited to a small number of potential scenarios.
Greenpeace was highly critical of the ASA, with fracking campaigner Hannah Martin calling the original decision a "farcical attempt to stifle the crucial public debate on fracking".
"This U-turn is an embarrassment not just for the advertising watchdog but for all the industry advocates who keep touting fracking as the miracle cure to high energy bills," Martin told The Guardian.
Public support for fracking – the method used to extract shale gas – has fallen continuously over the last three years, according to the government's official public opinion tracker. In April, just 19% said they supported exploration for shale gas, while 31% are against it – roughly reversing the figures from early 2014.
An ASA spokeswoman said: "It is only right that, where our council is presented with persuasive arguments and evidence, we are prepared to overturn our original ruling and put that on the public record."