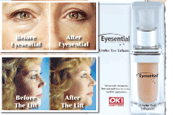 Both claimed that users could "look years younger in an instant", and that the products would have a dramatic effect on the appearance of skin.

They were accompanied by five sets of "before and after" pictures, claiming to show the effects of the products - Eyesential and The Lift.

Two complaints were received, which challenged some of the claims in the ads and whether the photos were representative of the effects.

The ASA said: "Although the photographer and one model said the photographs had not been altered in any way, we considered that the 'before' photographs clearly showed different shadows and, therefore, lighting, than the 'after' photographs."

It said it had not seen robust scientific evidence to substantiate the challenged claims for both products.

It said the ads must not appear again in their current form.