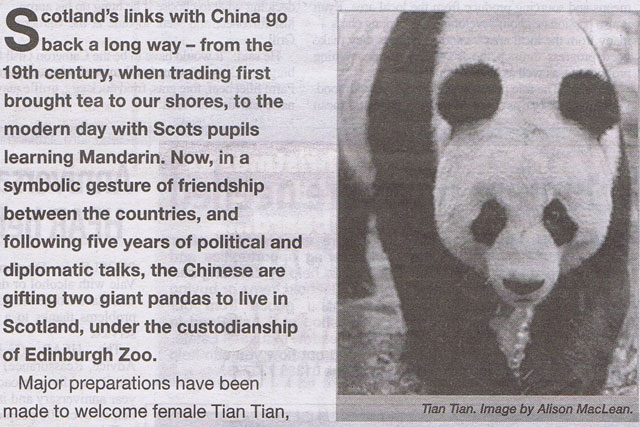 The regional press ad, created in-house, ran as a piece of advertorial with the headline, "Celebration of links between Scotland and China as pandas arrive in Edinburgh."
Above the headline, the ad stated that the column was sponsored by Natural Scotland, however, the following text in the column claimed China was "gifting" the pandas to Scotland.
Further text read: "The pandas' presence in Scotland is a sign of a strengthened alliance with China, and opens up new opportunities in trade, culture and education with the world's fastest growing economy".
Animal Concern and Scotland for Animals said the ad was misleading as it claimed the pandas were a gift from China, when in fact the pandas had been leased to the Scottish Government at a "substantial cost".
The pandas themselves have generated a wave of publicity. Unilever's grooming brand Lynx sponsored the panda mating programme at Edinburgh Zoo as part of its "Unleash the chaos" campaign for Lynx Attract.
The Scottish Government countered that the two pandas had been leased from China at no cost. They admitted, however, that the charity that owns Edinburgh Zoo would pay an agreed annual sum to the Chinese Wildlife Conservation Association.
The Scottish Government said this was not a payment for the two pandas but a contribution to global efforts to ensure the survival of one of the world's most endangered species.
The ASA ruled against the Scottish Government. The watchdog said it recognised that consumers could see the payments as part of a commercial agreement, though the money was not coming from the Scottish Government.
The ASA said: "In the absence of text stating that the 'gift' was in exchange for a substantial payment [it] implied that the pandas were provided by China for free."
Follow Loulla-Mae Eleftheriou-Smith on Twitter @LoullaMae_ES