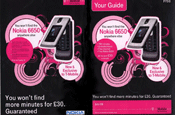 TV ads for the same campaign, which feature a man's voice during a séance and people on an archaeological dig, escaped censure as they did not make the same "guaranteed" claim.

In making its decision, the ASA upheld 3's claim that the ads were misleading because its Mix & Match 1100 tariff offers up to 1100 voice minutes for £27.

The ASA ruling said: "We noted the TV ads did not state "Guaranteed". We considered that viewers were therefore likely to understand from the TV ads that T-Mobile were challenging viewers to see if they could find more minutes with another provider for £30. We concluded that the TV ads were, therefore, unlikely to mislead. The press ad and brochure must not appear again in their current form."

The ad regulator has also censured Carling for running an online ad for the Carling website on a gaming website used by children.

The ad, entitled "Against the Wall", located on free games website Mousebreaker.com, directed users to the Carling website where the game was hosted.

Coors Brewers argued that research data for the site indicated a probable age range of between 18 and 34 and believed the nature and content of the site supported this.

The ASA acknowledged that Coors had not intended to target people under 18 and had inserted an age verification page requesting the date of birth of the visitor before the game could be played on the Carling website.

However, it ordered that the ad must not be hosted again on the Mousebreaker website.

A spokesman for IPC, which acquired the Mousebreaker site in June this year, said: "In October 2008 Ignite unveiled a new look for the site, with a range of enhancements aimed at creating an even richer and more fulfilling destination for the UK's 18 to 34 year old men.

"Comscore data for October 2008 shows 91.9% of Mousebreaker's UK audience to be over 18."