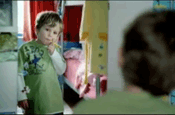 The ad, by Miles Calcraft Briginshaw Duffy, was accompanied by the tune I Wanna Be Like You from Disney's Jungle Book.

The ad received complaints over a scene that showed a young child imitating a smoking parent, by raising a crayon to his mouth.

But the ASA said: We considered younger children would recognise the crayon as a familiar object and would not necessarily understand the significance of the action they were copying.

On this basis, we did not consider that seeing the ads was likely to be a determining factor in children becoming smokers in the future."

It also rejected complaints that the ads should not have been shown before U- and PG-rated films.

The ASA added: We considered it likely that younger children would see the ads in the presence of their parents and considered that the anti-smoking message would have an even greater impact when seen by smoking parents in the presence of their children."