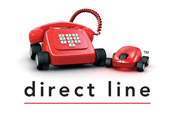 The ad said named drivers could earn a no-claims discount which could be transferred to any future policy in their own name.
But a viewer claimed the ad was misleading, because it did not make clear that the discount was less than for their usual no-claims discount.
But the Advertising Standards Authority said: "We considered that the ad presented a solution to the problem of careful drivers being disadvantaged when named on someone else's policy, and was unlikely to be seen as suggesting that named drivers would receive exactly the same 'no claims' discount as policy holders."
It said Direct Line's discount for named drivers was "significant".