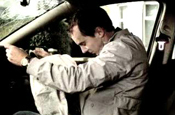 Although the ad had originally been restricted to appear after 9pm, when cleared by Clearcast, two spots were aired during an episode of The Simpsons on Channel 4 before 9pm.
The ad, which depicts in graphic detail the impact on a man's internal organs during a head-on collision, has been deemed too graphic to be viewed at a time when children are likely to be the prime audience.
Channel 4 apologised for its error, and for any offence caused. It immediately pulled the ad from all slots scheduled to air before 9pm.
The ASA noted the swift response from Channel 4 and advised that the ad must not be aired before 9pm again, as the close-up of the internal organs shown was unsuitable to be seen by children.