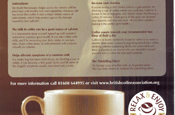 The ad provided several examples of how drinking coffee could improve health and well-being, however there was no scientific evidence.
A reader complained that the information was ambiguous as it implied for example, that 4-5 cups of coffee a day offered similar benefits as the government recommended five portions of fruit and vegetables.
The ASA also examined claims that a cup of coffee with an ibuprofen tablet had been shown to increase the painkilling effect.
The British Coffee Association (BCA) provided a dossier of evidence containing studies published in medical and scientific journals to support their claims.
The ASA accepted that the studies were of reputable scientific standard. However, the claim that 4-5 cups a day, is perfectly safe for the general population did not take into account pregnant women who are advised by the FSA to consume only 300mg of caffeine a day.
An expert for the ASA further said that the claim relating to coffee increasing the painkilling effect was supported by a number of studies.
However, the medicinal claim in relation to coffee is not permitted under a 1996 clause for Food Labelling Regulations.
The BCA agreed that the ad would not be repeated in its current form and that the ad was a one-off.