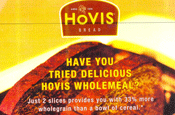 The headline stated: Have you tried delicious Hovis Wholemeal? Just 2 slices provides you with 33% more wholegrain than a bowl of cereal.
Warburtons and a member of the public felt the ad was misleading as the comparison was based on a 30g bowl of Bitesized Shredded Wheat, which is smaller than the recommended 45g portion size.
The ad did contain the text: Comparison based on a 30g bowl of Bitesize Shredded Wheat and 2 slices of medium sliced Hovis Wholemeal.
Premier Foods Group said that its intention was to dispel the myth that wholemeal bread was not as healthy as cereal and that it had intended the claim to be a generic one. However, it will no longer use the ad.