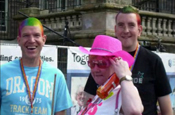 The ad, for Sandown Free Presbyterian Church, was headlined: "The Word of God Against Sodomy."

It was published to protest against the city's gay pride march, which it said promoted "a perverted form of sexuality".

Ruling against the ad, the Advertising Standards Authority said: "We considered that particular care should be taken to avoid causing offence on the grounds of sexual orientation, and concluded that this ad had caused serious offence to some readers."

The church said that quotations used in the ad were biblical and, therefore, formed an integral part of SFPC's religious convictions.

It added that it could not be held responsible if readers were offended by the message of the Bible.

However, the ASA said the ad "went further than the majority of readers were likely to find acceptable".

It also dismissed a complaint that the ad was likely to provoke hatred against the gay and lesbian community.