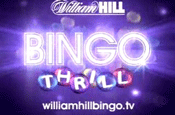 The Advertising Standards Authority has ruled that the spot, showing a pyjama-clad woman hurrying her husband off to work that she could play, portrayed gambling as indispensable and taking priority over family life.

Five people complained about the spot which they claimed depicted somebody who was addicted to gambling and was attempting to hide it from their family.

William Hill had argued that the woman's behaviour in the ad, in which the woman moves a clock hand forward to fool her husband about the time, was a humorous look at an everyday scenario.

However, the ASA said the commercial appeared to condone behaviour that could lead to social or emotional harm and that it should not be aired again in its current form.

Meanwhile, John Lewis has been warned about making misleading claims about a bracelet's health benefits.

The ruling was made after an ad for Trion:Z bracelets appeared in a sports goods catalogue. It claimed the bracelets created a boost in the body's magnetic field, resulting in greater health and wellbeing.

The ASA backed complaints which questioned whether the claims in the ad could be substantiated and ordered that they should not be repeated.