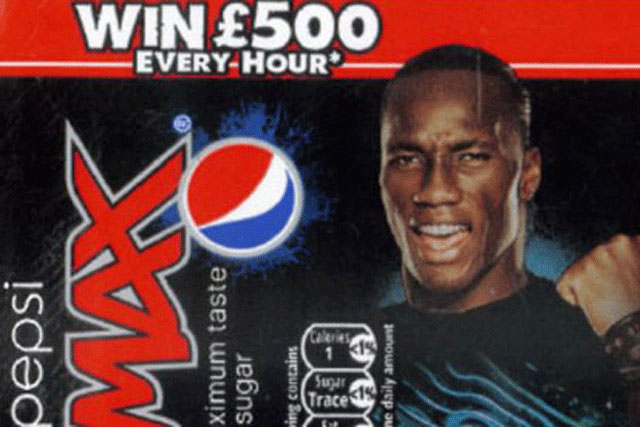 The promotion featured footballer Didier Drogba and invited people to submit a code via email or SMS for a chance to win £500 every hour.
The complainant, a member of the family who had entered 11,000 times, said that his family had won the competition several times, but was told by Pepsi that only one win would be honoured. He objected to Pepsi's ruling on the grounds that the restriction was not made clear in the marketing promotion.
Pepsi directed the ASA to the promotion's terms and conditions, which read: "There is a limit of one entry per mobile phone number/email address per hourly prize draw. Only one code can be entered at a time. No bulk, consumer group, third party or agent entries will be valid."
The soft drinks brand said that entries were monitored during the promotion to ensure mass submissions were not being received from a single IP address. They said that during the first six weeks, one entrant and his family had entered more than 11,000 times using a high number of slightly varying email addresses, equating to more than 35 entries per draw and some draws being entered by the family more than 500 times within the hour.
Entries from members of the complainant's family had been selected as winners on multiple occasions. However, Pepsi said it had presumed that as it was difficult to see how one individual could complete the form manually so many times, it appeared a robot had been used. On the basis that "bulk" entries were invalid, it considered that the entries were bulk and were therefore not valid.
While the ASA acknowledged that the family's use of thousands of email addresses to make a large number of entries was "not within the spirit of the promotion and could unfairly disadvantage other participants", it ruled that Pepsi's terms and conditions were not sufficiently clear and that "the reference to 'bulk' entries was likely to be interpreted as suggesting that entries generated automatically, and in particular not by individuals, would not be accepted".
The ASA ruled that Pepsi had not provided sufficient evidence to demonstrate the complainant's entries were made automatically and not manually.
Pepsi was told to ensure future promotions were run fairly and that conditions were made clear in the future.