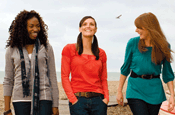 In the past, Asda has relied on famous faces including Coleen Rooney, Julie Walters and Sharon Osborne.

But the latest campaign features female nurses and doctors to model the George range.

Fiona Lambert, George brand director, said: "There will always be an argument for using celebrities and big names in fashion.

"However, our customers are telling us its time for a change, it feels wrong to spend money on a celebrity endorsement when times are tough and money is tight."