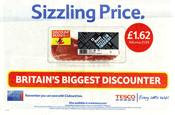 Through its media agency Initiative, Tesco booked a full-colour campaign in all of today's popular and mid-market newspapers, taking all available colour ad slots around the first 20 pages of each title.

But Asda has booked a spoiler campaign in the first full page colour ads available after the Tesco spots.

Its ads claim that Asda sells 3,457 products cheaper than Tesco.

An Initiative spokeswoman said: "We are incredibly happy with our campaign, the client is very happy with the campaign and the Asda campaign is not a spoiler. We are happy that we got our message across."

One agency press director said the Tesco campaign, across The Sun, Daily Mirror, Daily Star, Daily Mail and Daily Express, would have cost in the region of £450,000.

He said that it would have cost Asda, through its media agency Carat, around £120,000 to run the spoiler ads.

The source suggested that a client such as Tesco would usually have category exclusivity built into such a campaign to prevent rivals from running knocking ads.

He added that it was common knowledge around agencies that the campaign was due to run: "This is a press director's nightmare.

"You'd usually only commit to this level of spend if you could receive a guarantee that no other competitors would be running ads against you."