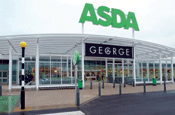 The advertising watchdog considered a six-point complaint by rival Morrisons over two ads that appeared in the national press earlier this year.

The two ads compared baskets of shopping from the two superstores, with the strapline: "Your weekly shop costs less at Asda."

Today's ASA ruling said that the ads were likely to mislead because they did not make it clear that the Asda ad included promotional items.

The ruling said: "...we noted the ASA had told Asda in a previous adjudication that they should make clear when promotional prices were compared with non-promotional prices and were concerned that Asda had repeated the approach.

"We told Asda that repeated breaches of the Advertising Codes could result in further sanctions."

The ruling also upheld complaints that the ads:
were not a fair comparison because one of the items from Morrisons was on a buy-one-get-one-free offer;

featured a bottle of beer that Asda increased in price during the ad period;

and referred to a weekly shop, which could not be verified.

However, the ASA rejected two complaints that the ads:
gave the impression that all the items could be bought from the same store;

and the price claim in one of the ads could not be justified.