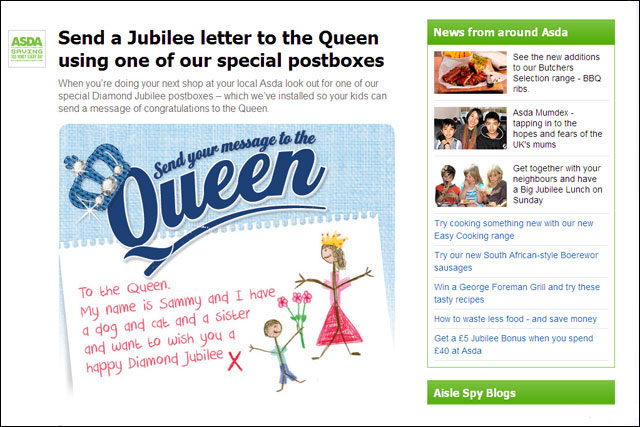 The Jubilee-based activity, which kicks off next week, will invite customers to write their own personal message to the Queen while in store, which Asda will then send to Buckingham Palace.
The supermarket chain's summer events programme will also seek to exploit commercial occasions, including Euro 2012 and the London 2012 Olympics, and will provide experiences aimed at capturing the imagination of its customers.
Asda, along with rival supermarkets, is expecting to benefit from the major events this summer.
Experiential activity for Asda's summer events programme has been planned by Momentum.
Steph Hughes, head of events marketing at Asda, said: "This summer is set to be one the most eventful in Britain's history.
"It's important to us that we help our customers celebrate the exciting national events the UK is hosting, while continuing to save them money on everything they need to do so."
Asda's in-store activity comes as Sainsbury's hailed its "grassroots" support of the summer's upcoming activities and blasted rivals for "jumping on the bandwagon".
Follow Matthew Chapman on Twitter at @mattchapmanUK