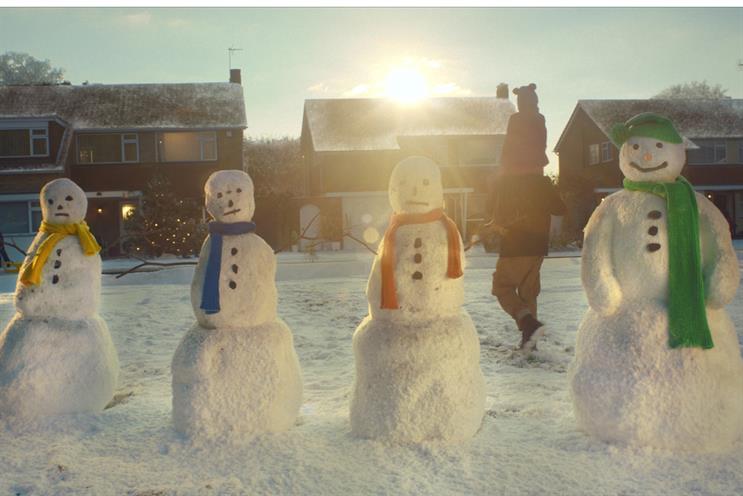 The supermarket's first two Christmas ads will air during 'The X Factor' on ITV on Saturday 8 November. Asda has created 20 different spots in the campaign to run over the festive period, all of which highlight the supermarket's low prices and feature the strapline, "You're better off at Asda".
The first 30-second TV spot is called "snowmen". It features scrawny and sad-looking snowmen in a garden, lined up next to a superior-looking specimen, who is bigger than the others and is wearing a smile.
A voiceover says that people should think of the snowmen as an analogy for supermarket savings – while many promise to match each other on price, only Asda says that it will beat competitors by ten per cent.
The second spot, called "wine lovers" shows a bottle of Asda wine moving from one Christmas scene to another, as a voiceover talks about the awards that the supermarket has won for its wines.
VCCP Blue created the ads, which were written by Jonathan Thake, art directed by Mark Orbine, and directed by Alan Friel through Park Village. Carat handled the media.
VCCP won Asda's £100m advertising account in August after a competitive pitch.
In addition to the TV spots, Asda has booked a takeover of 'The X Factor' app on Saturday, through which users can win a £500 shopping trip by creating and sharing their own snowman.
Asda joins fellow retailers Debenhams, John Lewis and Marks & Spencer in releasing its Christmas campaign this week. But Steve Smith, Asda's chief marketing officer, said the supermarket was separating itself from its competitors by producing low-key ads in an effort to keep costs down for customers.
Smith said: "We're different to the rest. We take our customers and our business seriously, but we're keeping it simple, fun and light-hearted. We think it's more important to invest money directly into lowering the prices of all our products, instead of producing costly campaigns that just keep the ad guys happy.
"Our ads won't be celebrity filled features, they will shine a spotlight on the stories behind our great quality, award-winning products and the unbelievable value for money of our whole range of gifts, food and drink – the real stars of our show."
Smith also said that Asda's media spend for Christmas was down ten per cent on 2012, but added that the reach and frequency of the campaign was higher, meaning people, "won't be able to pick up a newspaper, watch TV or go online without seeing one of our products or adverts."
Asda declined to comment on how much it spends on media.