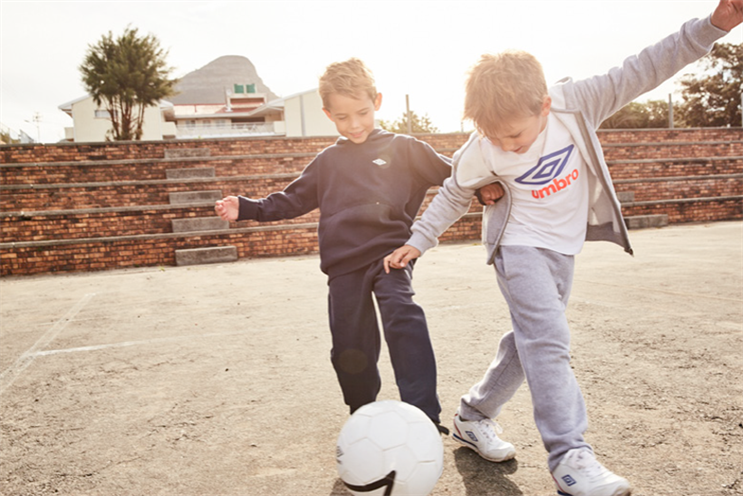 Umbro and George share similarities from their very beginnings – both were founded by entrepreneurs in the north west of England.
The deal marks the first time George has partnered with a sports brand.
The range, which will include sportswear, leisurewear, footwear and accessories, will debut on 26 May in both the George department of Asda stores and online, while 20 of Asda's biggest stores will house dedicated Umbro areas.
Asda said the partnership was well placed to capitalise on booming sales of sports gear, with research from Mintel projecting a 5.9% growth in the market in 2016.
"Umbro is the perfect partner for George," said George MD Nick Jones. "Both brands have longstanding heritages built on innovation, but we also share the same values, and are passionate about delivering quality affordable products.
"Now, as we prepare to get behind our nations for some huge sporting events this summer, our partnership will mean that customers can get great sportswear, whatever their budget."
Michael Scholz, General Manager for Umbro UK, said the partnership reflected "similarities" between Umbro and Asda.
"Both were founded by entrepreneurs in the north west of England," he said. "The changes to the UK retail landscape are well-documented, especially in the sports industry, so this partnership gives us immediate scale with one of Britain's most well-loved retailers.
"The product offering will be tailored to the George consumer – relevant lifestyle and sport product at affordable prices."
Umbro was formerly owned by Nike, but the sports goods giant sold it to Iconix Brand Group in 2012 for £139m - less than half of what it paid for the company five years previously.