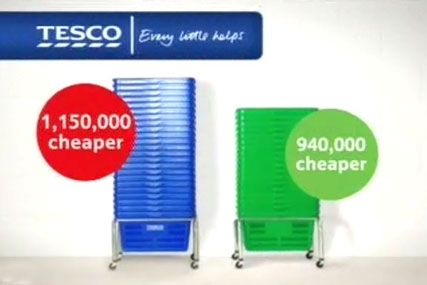 The ad, which was created in-house, aired on TV in September last year.
It showcased a range of foods on offer at Tesco, including pizzas and fresh vegetables, and claimed they were cheaper than Asda's.
The voiceover said: "when we compared prices with Asda's on Saturday the 30th of January, shopping was cheaper for over 1.1 million Tesco customers. Tesco. Every little helps".
Tesco baskets were then shown alongside Asda baskets with the statement "1,150,000 cheaper" and "940,000 cheaper".
The ad's footnote said: "Equivalent products compared, covering over half our customers' purchase, includes promotions", It added, "to verify contact Tesco Price EN8 9SL or www.tesco.com".
Asda contacted the Advertising Standards Authority to challenge whether Tesco offered an appropriate means of verification for the basket of goods comparison.
In its defence, Tesco claimed the ad offered two means for obtaining verification for the price comparison claimed – directly from Tesco by writing to a postal address, or by visiting the Tesco website. Tesco said its website contained an explanation of the methodology it used.
Furthermore, it argued that when Asda asked for verification information, it sent them a copy of the methodology it used and a list of 380 baskets it selected as a random sample.
Tesco said it sent a sample because the full data was likely to be too much for an individual's software to display. It said Asda had previously been happy with the method of using a sample that was representative of the whole.
Clearcast, which vets TV ads before airing, said it had been assured by Tesco that the full data set for the comparison would be available to consumers if they wished.
In its ruling, the ASA concluded that Tesco should have disclosed the full data for the total number of baskets on request so that the competitor could then interrogate the data and ascertain for themselves whether the comparison was accurate.
As Tesco only supplied a sample, it concluded that the basket of goods was not verifiable. It ruled the ad should not be broadcast again and Tesco should in future provide consumers and compeititors with the full data set for comparative claims.
The ruling is one of a number in Asda's favour against Tesco in recent months, including one in June.