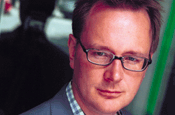 Highfield will take the new role of managing director and vice-president, consumer and online UK at Microsoft.

Rob Henwood, the lead regulatory adviser at Kangaroo and former new business director of Channel 4, has been appointed interim chief executive of Project Kangaroo.

Highfield had joined Project Kangaroo - a proposed joint venture between BBC Worldwide, ITV and Channel 4 - from the BBC, where he was director of new media and technology.

Highfield's new role will involve bringing together Microsoft's consumer products and services across PC, mobile and internet platforms.