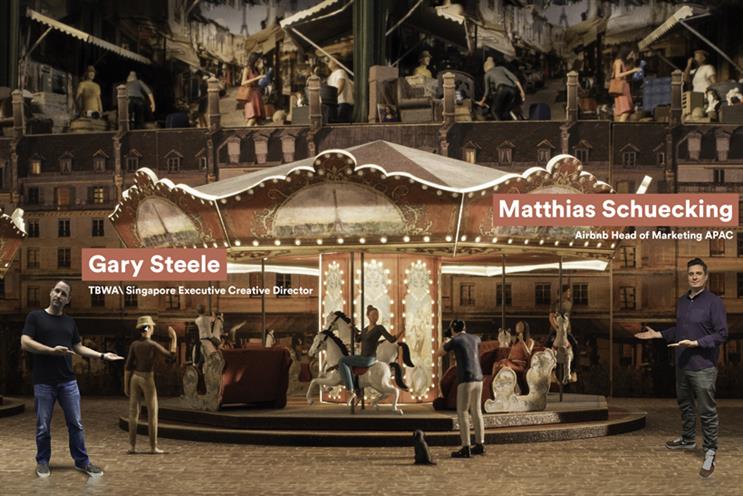 The relationship immediately blossomed with a global digital campaign intended to educate viewers about Airbnb, portraying the world as small and encouraging people to explore and discover. "Welcome to Airbnb" took viewers on a train journey through a handcrafted miniature world in a video produced in a single, continuous shot without computer-generated images. It took 30 people 2,400 craftsmen-hours (five weeks) to build the 85-square-metre train set and create the landscape. The work used 20 square metres of plywood, 12 litres of glue and more than 160 sheets of polyboard.
The Airbnb marketing teams in Singapore and San Francisco worked together with TBWA\Singapore, Six Toes TV Sing-apore and production company Cirkus in Auckland, New Zealand, to create the film – the first of several notable collaborations over the past 18 months.
---
Matthias Schuecking
Head of marketing APAC, Airbnb
We have a collaborative relationship with Gary and the TBWA\Singapore creative team. I know when to trust them; they know when to accept my feedback. We constantly challenge and push each other. If the brief's average, I want to know. If the creative idea's safe, I demand more chutzpah.
As my creative partners, they must be fully immersed in the brand, understand our business problems and empathise with the audience. But, equally importantly, they must demonstrate true passion for their ideas. I want them to make me feel uncomfortable – otherwise, we're not pushing hard enough to deliver the best work.
---
Gary Steele
Executive creative director, TBWA\Singapore
"It's not good enough." It's not often that you have a client who pushes you as hard as you push them, but, with Matthias and his team at Airbnb, we have one common goal: produce great work.
It is this combined passion for what we do, as well as an open and honest relationship, that has not only helped us create work that we are proud of but also achieved the results we strived for. It is also work that continually sets the bar higher. Because, as Matthias likes to say: "It's not good enough."
.