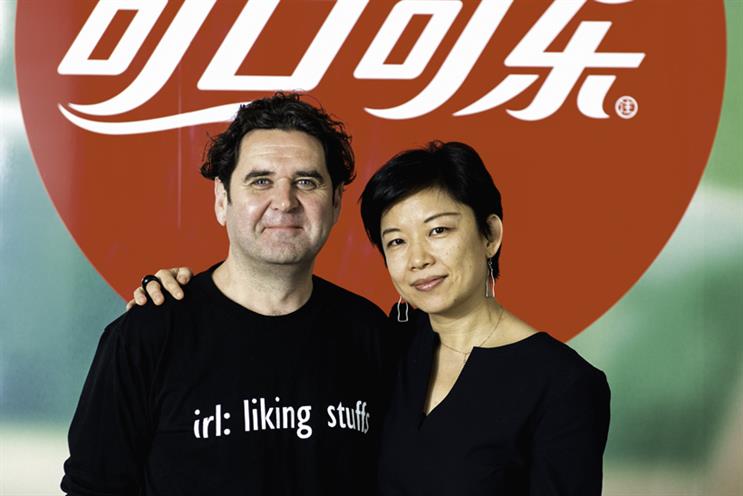 One highlight was a 2014 campaign, in which the lyrics of 50 popular songs appeared on Coke bottles and cans to help people express their emotions.
Each lyric was selected on the basis of being the catchiest hook of the song and immediately recognisable. In addition, each
bottle could be scanned with a smartphone to play the music clip. Each clip was accompanied by a fun animation of the lyric that could be shared on social media as a "musicon" (music plus emoticon) as a means of self-expression.
Coca-Cola's sales rose more than 6% on 2013 – the highest sales volume it has recorded for a summer campaign in China.
---
Michelle Yang
Director of media, Coca-Cola China
Comparing a partnership to marriage might be a cliché, but the metaphor does capture the essence of the relationship and what it takes to make
it a success. We are glad that Coca-Cola China's partnership with Isobar
is more creatively productive and operationally excellent than it was in
its early stages. At that time, the current Isobar global chief executive, Jane Lin, was our project lead, and we had only one digital manager in-house.
Our partnership has been blessed with an abundance of the must-have elements for success: understanding, trust, tolerance of imperfection and difference, and the courage to challenge each other to do better. As the business of both companies grows and teams evolve, our commitment to excellence has handsomely paid off.
---
Rohan Lightfoot
Managing director, Isobar Shanghai
Our relationship with Coca-Cola has consistently redefined what digital excellence means in China. Year after year, it has pushed us and encouraged us to do our best work on its behalf. We've won World Cups together, shared Cokes, united families at Chinese New Year and brought the population into many campaigns. Great work requires bravery from a client, imagination from an agency and honesty on both sides. We've always had that with Coca-Cola.