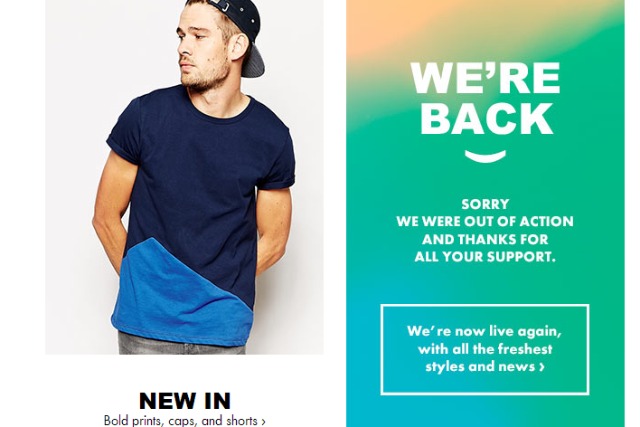 The fire is being treated as arson and began late on Friday night, but Asos reassured customers that no one had been hurt in the fire.
We've had a fire in our warehouse & fortunately nobody's hurt. There's some damage so we can't take any orders right now. Sincere apologies

— ASOS (@ASOS) June 21, 2014
The weekend of lost sales and the delay to pre-existing orders comes shortly after Asos announced a profit warning after being hit by a slowdown in international growth and an erosion of its margins caused by discounting.
Fortunately, Asos was able to re-open its websites for orders this morning and thanked everyone for their support in a tweet.
Asos is in the process of expanding its infrastructure, with plans for the opening of another warehouse in Berlin. However, ahead of the second warehouse opening, chief information officer Pete Marsden said he expected "growing pains".
We're back online now! Sorry we were out of action, and thank you so much for all the kind tweets. Happy shopping! http://t.co/cblf5UJ2Xi

— ASOS (@ASOS) June 23, 2014
Rival Shop Direct even offered its help to Asos by saying it that it was willing to offer any help if needed.
@ASOS Glad to hear everyone's OK. If there's anything we can do to help, just shout. Or DM maybe! x

— Shop Direct (@ShopDirect) June 21, 2014