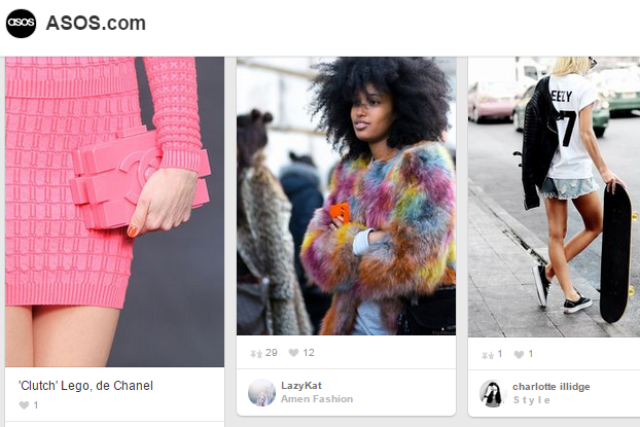 Asked during an analyst call on the company's six month results whether he saw Pinterest, Facebook Messenger or Instagram as an ecommerce threat, CEO Nick Beighton said the retailer was trialling buy buttons "with several" of the companies. He wouldn't confirm which.
Pinterest has buyable pins rather than buy buttons, which are only currently available to select US retailers. This lets customers store their card details with Pinterest, then purchase items without leaving the site.
Instagram's buy button launched last year. Unlike Pinterest's offering, this doesn't allow customers to buy directly from a retailer's page, but rather pushes them to a brand's ecommerce site to complete a purchase.
Beighton added that Asos had differentiated itself enough to not view social media services as a threat.
"The advent of the social media guys coming into our space, we just play on that space with them," he said. "They just improve our reach. And we're trialling buy buttons with several of the people you may be thinking about. But that serves up our product, our offer and our content in a different way.
"I don't see threats from those things, I think I see that helping our reach."
Asos invests heavily in digital
Beighton acknowledged that Asos spends less on marketing than rivals, saying that its extensive social media presence often did the legwork for the brand in terms of reaching its millennial audience. Tellingly, the company has rebranded its marketing team 'Asos Creates' in reflection of the sheer amount of content it generates across its social channels.
He warned that mobile social channels such as Snapchat, while increasingly important, still brought in a lower return on investment. "We're just experimenting with it," he said.
The company reported that, in February, more than 50% of orders – rather than just traffic – came from mobile, a first for the business. Mobile accounts for 70% of traffic in the UK, and 6% across the overall group.
Asos' new iOS app has been downloaded more than 7.5 million times since its release in March.
Beighton added Asos would be expanding its next-day delivery options and boost the number of Boots and Doddle click-and-collect locations.