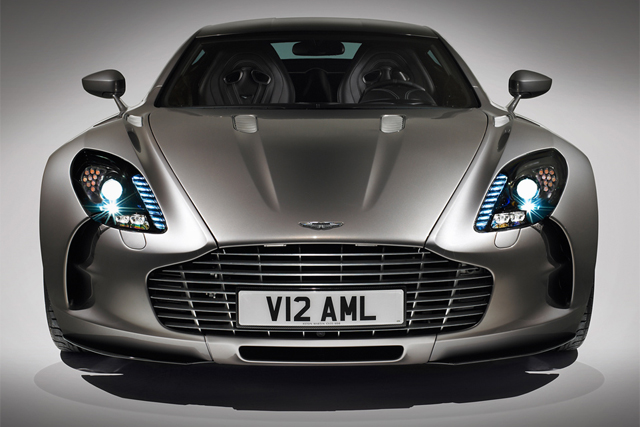 According to CoolBrands' annual UK rankings, British Sports car manufacturer Aston Martin, home to James Bond's DB5, has held off challenges from Apple (2), Rolex (4) and Dom Perignon (12), to be crowned the coolest brand in the UK for the second year running.
Perhaps more surprisingly, the third coolest brand according to the survey is Hells Angels favourite Harley-Davidson, the motorbikes better known as hogs.
Aston Martin is joined by other sports cars Ferrari (8) and Maserati (20) in the top flight while Google is the only company to get two individual listings: one under its own moniker and one for its video sharing site YouTube.
Tate Modern is the only arts establishment considered within the top 20 coolest brands in the UK, Nintendo and PlayStation represent games and Nike the only sportswear to make the cut.
Now in its tenth year, the list follows a vote by a combination of 2,000 consumers and a panel of 36 designers, style experts, media personalities and prominent figures from the worlds of TV, fashion and music.
In 2009, Apple's iPhone was named the coolest brand in the survey, ahead of Aston Martin, Apple and iPod.
Co-ordinated by The Centre for Brand Analysis, the CoolBrands list is drawn from more than 10,000 independently identified brands and whittled down into a shortlist of 1,500.
Some critics will no doubt question the creditability of the "coolness" rating. Jim Prior, chief executive of brand consultancy The Partners, said: "The problem I have with this list is that the idea you can calculate coolness to an absolute number seems to me to be fundamentally flawed.
"Sure, you can gather subjective opinion from arbitrarily selected 'experts', you can input a certain but incomplete amount of data to a computer and use an algorithm to crunch the numbers, but that doesn't mean the answer you get is right. Just look at the weather forecast if you need any proof of that."
The panel of 36 influencers score each brand, bearing in mind factors such as style, innovation, originality, authenticity, desirability and uniqueness, before more than 2,000 members of the British public give their ratings.
The views of both the panel and consumers have been combined to produce a list of the 500 brands most highly rated.
Stephen Cheliotis, chairman of the CoolBrands Expert Council, said: "Cool is subjective and personal, but being identified as a CoolBrand by the British public and a panel of influential opinion formers implies it is a brand that most Brits wish to own.
"Votes are based on a wide criteria of factors, but these brands are clearly delivering cool in the eyes of consumers and influencers alike."
The CoolBrands top 20 collest brands of 2011
1
Aston Martin – Automotive/Cars
2
Apple – Technology/General
3
Harley-Davidson – Automotive/Motorbikes
4
Rolex – Fashion/Accessories, Jewellery, Watches
5
Bang & Olufsen – Technology/General
6
BlackBerry – Technology/Telecommunications
7
Google – Online
8
Ferrari – Automotive/Cars
9
Nike – Sportswear & Equipment
10
YouTube – Online
11
Alexander McQueen – Fashion/Designer
12
Dom Perignon – Drinks/Champagne
13
PlayStation – Leisure & Entertainment/Games & Toys
14
Ray-Ban – Fashion/Accessories, Jewellery, Watches
15
Chanel – Fashion/Designer
16
Nintendo – Leisure & Entertainment/Games & Toys
17
Vivienne Westwood – Fashion/Designer
18
Agent Provocateur – Fashion/Lingerie
19
Tate Modern – Leisure & Entertainment/UK Attractions & The Arts
20
Maserati – Automotive/Cars
Who is on the CoolBrands Expert Council 2011/12?
Walé Adeyemi, fashion designer
Kate Creasey, former editor of Cosmopolitan.co.uk
Rob da Bank, DJ & Bestival founder
Ben de Lisi, fashion designer
James-lee Duffy, art director, graphic designer & illustrator, We Are Shadows
Gizzi Erskine, TV chef
Sadie Frost, actress & fashion designer
Kate Halfpenny, fashion designer & stylist
Ruby Hammer MBE & Millie Kendall MBE, founders of Ruby & Millie
Newby Hands, associate editor & director of health & beauty of Harper's Bazaar
Rickie Haywood-Williams & Melvin Odoom, hosts of Kiss 100 Breakfast Show
Kelly Hoppen MBE, designer
Jessie J, music artist
Jo Jackson, managing director of 'i-am' beyond
Dolly Jones, editor of Vogue.com
Daisy Knights, jewellery designer
Mark Krendel, partnerships director of Universal Music Group UK
Lee Lapthorne, fashion & creative director
Hannah Marshall, designer
Zara Martin, TV presenter & model