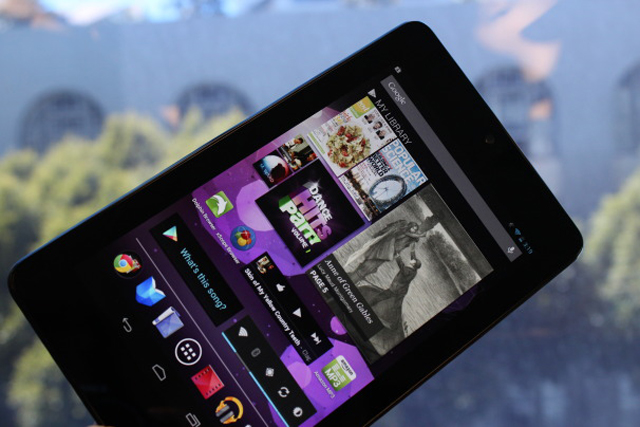 Asus also picked up Tech Brand Of The Year, its Eee Pad Transformer Prime won the T3 Design Award and its Zenbook UX31 won Computer Of The Year.
Despite being nominated in nine and ten categories respectively, tech giants Apple and Samsung were only triumphant in one category each. Samsung emerged with Phone Of The Year for its Galaxy S3, beating the iPhone 4S.
The iPhone 4S picked up Apple's only award of the evening for Work Gadget Of The Year.
Amazon picked up the award for Retailer Of The Year and Commuter Gadget Of The Year for the Kindle 4.
Guest of honour Lord Sugar collected the Outstanding Contribution to Technology Award from Carphone Warehouse co-founder Sir Charles Dunstone. Previous recipients have included Sir David Attenborough, iPod creator Jon Rubinstein and Nintendo's Shiguru Miyamoto.

Lord Sugar said: "I have been fortunate enough to receive a few honours and awards over the years, but this one is special and I am proud to accept it. When I look back at my career achievements since starting Amstrad in 1967 - from making h-ifi units, computers and the first Sky satellite dishes, to bringing YouView to market this year - the one thing that has kept me motivated is that I am a real tech geek at heart.

"Since I was a child, I've always wanted to crack something open, get my hands in there and understand how it works, be it a stereo, computer processor or a set-top box. I'd like to thank T3 and the award judges for recognising the contribution I have made to the industry."

Luke Peters, T3 editor, said: "This year saw more closely contested categories than ever, with our judges deliberating in great depth to decide the eventual winners. The public vote also played a crucial role.
"The tech industry has never been more exciting and the multitude of winning brands demonstrate how much quality buying choice there is now."
In June, T3 picked up awards for Digital Product Of The Year and International Consumer Magazine Of The Year at the PPA Awards.
The Future Publishing owned brand also posted an ABC-verified circulation of 17,682 copies for its interactive tablet edition in August.
The winners of the T3 Gadget Awards 2012 in association with Qualcomm and EE are:

Innovation Of The Year Raspberry Pi
Gaming Gadget Of The Year Sony PS Vita
Gadget Accessory Of The Year Nike Fuelband
App Of The Year Zeebox
Retailer Of The Year Amazon
Tech Personality Of The Year Rory Cellan-Jones
Digital Media Service Of The Year Sky Go
T3 Design Award ASUS Eee Pad Transformer Prime
Commuter Gadget Of The Year Amazon Kindle 4
TV Of The Year Sony Bravia KDL-55HX853
Digital Camera Of The Year Panasonic Lumix DMC-GX1
Work Gadget Of The Year Apple iPhone 4S
Home Gadget Of The Year Nest Smart Thermostat
Computer Of The Year ASUS Zenbook UX31
Music Gadget Of The Year Bowers & Wilkins P3
Tablet Of The Year Google Nexus 7 By ASUS
Tech Brand Of The Year ASUS
Outstand Contribution To Tech Lord Sugar
Phone Of The Year Samsung Galaxy S3
Gadget Of The Year Google Nexus 7 By ASUS