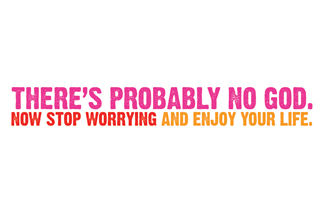 The organisation's initial aim was to raise £5500 for 30 bus-side ads in central London, but having raised almost 25 times that amount, the campaign will now be expanded to include 800 bus-side ads, 1000 ads on the London Underground and two big LCD screen ads opposite Bond Street Tube station on Oxford Street.
The bus ads will feature its fund-raising slogan, 'There's probably no God. Now stop worrying and enjoy your life', while the BHA is also introducing four ads with quotes from famous atheists, including Albert Einstein and Douglas Adams, on the Tube and Oxford Street.
The campaign was created as a response to a series of ads by a group of evangelical Christians that ran on London buses last summer, headed 'Jesus said…', which featured the URL of a website saying all non-Christians would go to hell.