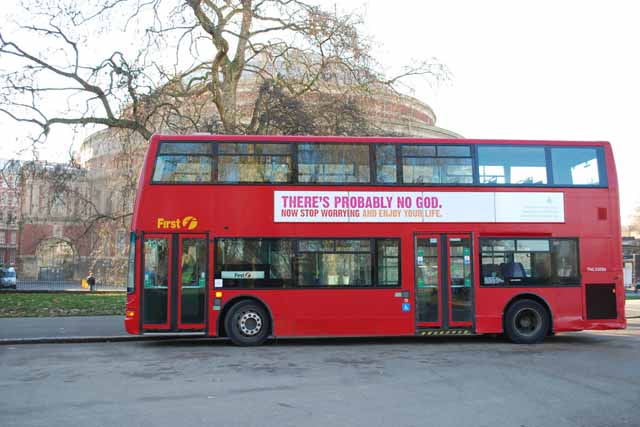 The Atheist Bus Campaign has been started by the British Humanist Association, and will feature ads reading: "There's probably no god. Now stop worrying and enjoy your life".
It has been inspired by journalist Ariane Sherine, who blogged on the Guardian in June after seeing two buses carrying the bible verse "When the son of man comes, will he find faith on the earth?" and a URL linking to the website jesussaid.org.
Sherine questioned the validity of running such an ad on the basis that it could not be substantiated, but was told by the Advertising Standards Authority at the time that there was nothing in the advertising code to stop ads carrying a religious message.
The British Humanist Society quickly raised the £5,500 that Dawkins, author of the book 'The God Delusion, said he would match. Funds continue to roll in as word of the campaign spreads, and these will be channelled towards further ads, with over £50,000 donated to the cause by Wednesday morning.
Dawkins said: "This campaign to put alternative slogans on London buses will make people think -- and thinking is anathema to religion."
The BHA added that it hoped the campaign would brighten people's journeys to work and encourage more people to come out as atheists.
CBS Outdoor is set to run the campaign next year and welcomed the debate sparked by the campaign.
Tim Bleakley, managing director of sales and marketing, at CBS Outdoor, said: "Ultimately, CBS Outdoor is a commercial media business that generates revenue from advertisers, and we are completely neutral in every respect.
"As such, our decision to take an ad that promotes God, or one that promotes No God, is based on commercial terms, as long as the advertising copy itself does not breach UK advertising standards."
Stephen Green, National Director of Christian Voice, has responded in a statement saying: "How funny that Richard Dawkins is so scared of the threat which evangelical Christianity poses to atheism and his beloved Darwinism that he has to fund a campaign to attack God."
Inevitably a Facebook group has been set up for supporters of the campaign.
Atheism is current undergoing a wave of support among the public. As well as the success of this campaign and Dawkins' bestselling book, December will see three events billed as "Nine Lessons and Carols for Godless People" held in London, as a way for non-believers to celebrate Christmas.

Dawkins is set to appear, alongside the likes of Stewart Lee, who has been picketed by Christian Voice in the past over his part in the musical 'Jerry Springer: The Opera'; Mark Thomas, the left-wing comedian and activist; and Ricky Gervais, who will appear at the final event at the Hammersmith Apollo. The events have been organised by comedian Robin Ince.