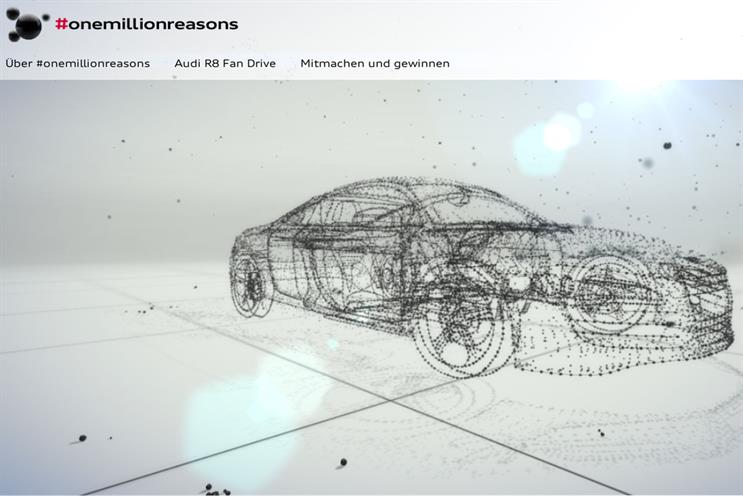 Razorfish Germany and the creative production company Minivegas were asked to create an engaging web experience that would both find out more about Audi's fans and thank them for their loyalty.
When a fan uses the hashtag #onemillionreasons to share a reason why they love Audi, the text or image is gathered and becomes a spherical particle in a 3D model of the Audi R8.
The hashtag can be used across social media channels, including Facebook, Twitter, Instagram and Google+.
Fans also gain the chance to win an Audi R8 driving experience, when they contribute to the site,
The work was created by creative director Carsten Lindstedt, social strategist Kathrin Stieler, art directors Frank Lazik and Malte Gruhl, and screen designers Julian Kraske and Paul Svoboda at Razorfish.
Maarten Boon is Minivegas's creative director on the work, Brian Bourke was the executive producer, the lead developer was Daniel Lewis and the lead 3D artist was Segio Pinto.
The microsite allows users to navigate around a 3D Audi rendered in hundreds of black dots. Upon zooming in, each dot reveals text or an image tagged with the #onemillionreasons hashtag.
A search function allows users to find their contributions, and share the image they generate on Facebook.
A 2D option, designed for tablets and older web browsers, dispenses with the interactive model, creating a scrollable montage of fan's comments.
Boon said: "The biggest challenge for us on this project was to combine real-time, social media-generated content, with the slick and sexy visuals that you would associate with an automotive campaign.
"We see interactive billboards as a strong trend in the future, both online and offline. This campaign demonstrates that it is possible to create something uniquely relevant to each member of your target audience, whilst refusing to compromise on premium design values."