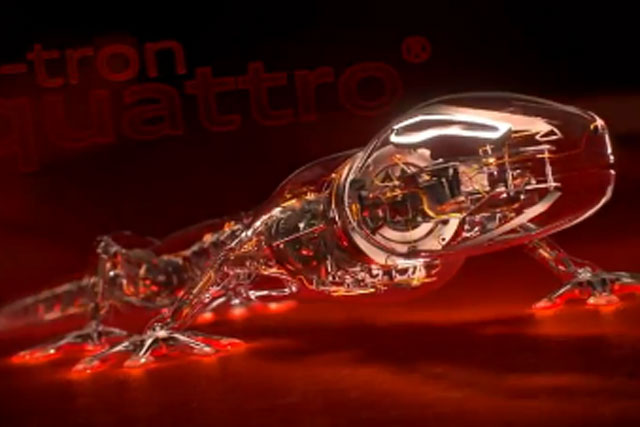 The ad, by German ad agency Kempertrautmann, uses a series of clips to showcase new technologies being developed by the Volkswagen-owned marque, including its 'e-tron' electric vehicle programme, its 'ultra' lightweight vehicle development, and its 'connect' in-car digital products.
A voiceover by actor Simon Callow says: "Our world amazes us, with new possibilities. It inspires us to progress, to create new kinds of technology – technology that can connect everything important to us, that can make things lighter, more efficient, yet more powerful. That can make breathtaking electrical vehicles.
"Visionary technology that enrich our lives. That's where we're going, with 'Vorsprung Durch Technik'."
The campaign will run until the end of June, with 60-second ads running on TV and a 90-second version screening in cinemas.
It follows the launch of a new UK campaign for the brand's A5 model, which harks back to the early days of the brand in the 1920s, depicting Audi as a "design pioneer".
Audi UK marketing director Dominic Chambers told Marketing earlier this year that he would look to make the marque's classic strapline more prominent in future activity.
Chamber said: "'Vorsprung Durch Technik' is the best-known slogan in the automotive sector by quite some way, but even though it's featured in our communications over the past few years, I feel it's become a bit recessive. I'm going to ensure it features more heavily and is a core part of the creative brief."