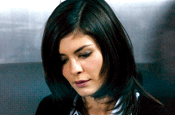 The ad will be directed by Jean-Pierre Jeunet, who has worked with Tautou in the past on 'Amelie' and 'The Long Engagement'.

Tautou replaces Nicole Kidman as the frontwoman for Chanel no.5, which has a history of high-profile, expensive advertising campaigns.

In 2004 Kidman starred in an £18 million, two-minute ad for the perfume, directed by 'Moulin Rouge' director Baz Luhrmann, which saw her pursued by paparazzi and kissing a mystery man played by the Brazilian actor Rodrigo Santoro.

The ad, which was created in-house, was billed as the most expensive ever made.