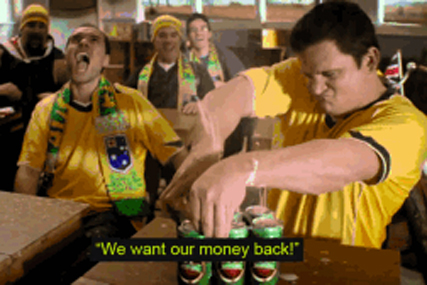 The in-house produced ad featured a group of Australian football fans, known as Socceroos, at a language class in South Africa.

But after the fans fail to pick up the language from their teacher, who is dressed in an African tribal outfit, they demand a refund.

Efforts by the fans to win a refund prove as effective as the Australian team in its 4-0 thrashing by Germany.

According to a report on AdNews, the fans having failed to get their message across turn naturally to using beer can ringpulls and "make a series of crude noises to imitate their demand for their money back" whilst English subtitles run across the bottom of the screen.

Sportsbet.com.au brand defended the ad saying it did not believe it was racist, but took it off the air over concerns about public opinion.

The Advertising Standards Bureau said it had received more than 10 complaints citing discrimination and vilification.