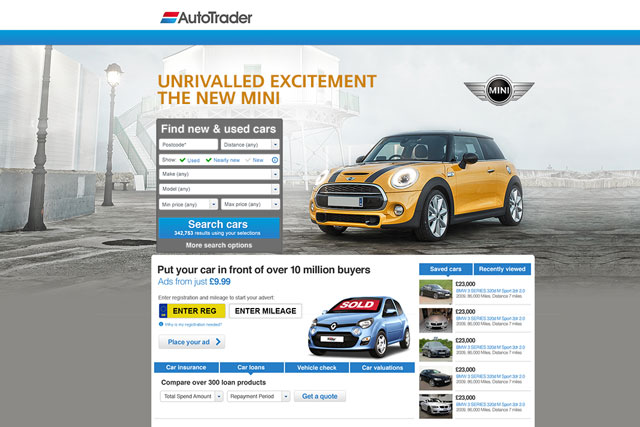 Auto Trader, owned by Trader Media Group, traditionally relied on classified ads from people selling used cars.
It now plans to reposition to target car brands, after a two-year report, conducted by Kantar Media, revealed that nearly two-thirds of those who buy new cars online in the UK visit Auto Trader.
Auto Trader will launch a homepage in March, featuring a cleaner design, with 43 per cent fewer clickable links.
It will offer new advertising formats such as rich-media homepage takeover options, which it will push for new car launches.
The brand will also open its programmatic buying programme to automotive manufacturers for the first time, when it had previously been restricted to non-automotive brands. It runs programmatic through its in-house team, working with Rubicon.
The programmatic audience will be divided into nine target segments, specifically for automotive clients.
The Kantar study looked at the online journeys 300,000 of Auto Trader's consumers took before buying a car, whether used or new. It claims that 64 per cent of all new-car shoppers online visit Auto Trader during the purchase journey, three times more than its nearest rival eBay.
The print issue of Auto Trader closed in June 2013, leaving the brand's website still running. A digital edition of the magazine was launched this month. The site claims to reach 500,000 unique users a day.
Digital sales have been led by Chris Ward, the digital advertising director who joined last May from Kenshoo. He said: "Auto Trader has always been synonymous with used cars, but our research shows that people want to buy new cars.
"What we're talking about now is using high-impact formats to attract brand money, and marrying that with the research to show we have a big audience looking to buy new cars."
The Kantar research also showed that a user's car-buying journey was "much quicker than we'd imagined" said Ward. Buyers clustered around either a six-week or 12-week wait before buying.
In January, Guardian Media Group agreed to sell its 50.1 per cent stake in Auto Trader owner Trader Media Group to private equity firm Apax Partners, in a deal reported to be worth £600 million to £700 million.