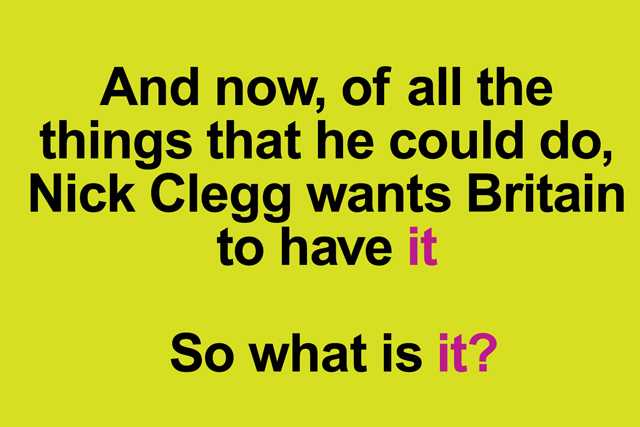 Last week, NOtoAV, which is campaigning to keep the current 'first past the post' voting set-up in place, rather than shift to the 'ranked choice' AV system, unveiled its relaunched website and direct marketing material.
The organisation plans to distribute more than 6m copies of a leaflet that focuses on the fact that only three countries, Australia, Fiji and Papua New Guinea, use AV for parliamentary elections.
The leaflet also highlights quotations from politicians such as deputy prime minister Nick Clegg, who has in the past criticised AV but is now backing it.
Matthew Elliot, campaign director at NOtoAV, said the marketing push represented a 'statement of intent for 2011'.
Explaining the campaign's creative strategy, he added: 'AV is an unusual and obscure electoral system which does worry a lot of people.'
NOtoAV's relaunched website, created by digital marketing agency MessageSpace, has an 'action centre', where campaigners can download resources and register their support, and a 'We Say No' page, which tracks support for the campaign across the UK.
Message Space also plans to run a social media campaign targeting 'armchair activists' and key opinion-formers, such as political journalists and bloggers.
In contrast, Yes! To Fairer Votes, which is lobbying for the introduction of AV, is focusing initially on an operation that allows its supporters to make campaigning calls to members of the public, using a specially created database, from 'phonebanks' across the UK or from their own homes.
Its campaign material, which supporters can download from its website, uses the strapline 'Make your MP work harder' and adapts the 'men at work' road sign for its creative theme. It is using the UK arm of agency Blue State Digital, which was involved in US president Barack Obama's election campaign in 2008.
A spokesman for Yes! To Fairer Votes claimed that its strategy would be more effective than that of its rival. 'NOtoAV seems to be taking a scattergun approach,' he said.
Both groups said they would use above-the-line media once legislation for the referendum, to be held in May, is granted Royal Assent next month.
IN MY VIEW EXPERT COMMENT
Nick Fox, Chief client officer, DDB UK
"We're all flat out at the moment trying to get through the bad economic patch - no one has time to engage with these campaigns, despite their obvious significance. Both are overwhelmingly negative - if we're going to engage with anything, we need a ray of sunshine and clear benefits - and lack an emotional connection. The anachronistic Draconian messaging discourages engagement. Where's the light at the end of the tunnel?"