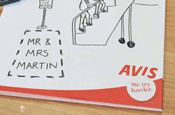 The car rental service is looking for an agency to handle all creative and media output across the digital and DM sectors, with a specific focus on sales and retail activity.
The brief will not incorporate any of the rental service's affiliate marketing, which is handled by Web Liquid.
McCann Birminham is the incumbent on Avis's pan-European account. The agency was appointed to the business in January 2007, and has been invited to repitch.
Shortlisted agencies will be pitching towards the end of this month, with a result expected early March.