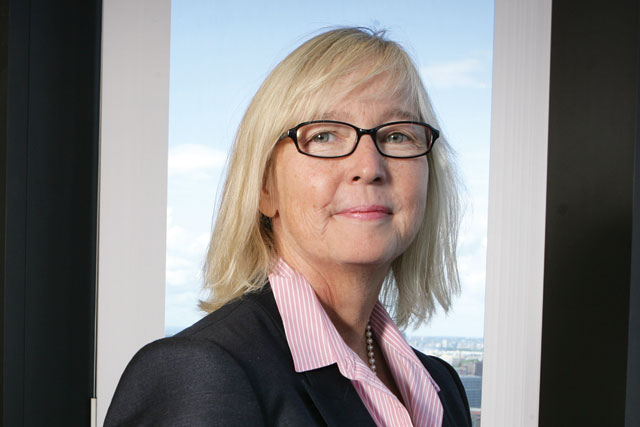 Jan Gooding's support for Norwich City may not be quite in the somewhat overcooked "let's be 'avin' you" style of the football club's owner Delia Smith. But she was pretty chuffed the day the Canaries clinched promotion to the Premier League.
Gooding, Aviva's global marketing director, was happy knowing what a boost the achievement will be to the city with which Aviva - in its previous incarnation as Norwich Union - has enjoyed a 300-year association and where it remains a major employer.
However, she's equally hopeful that what's good for Norwich will be equally good for Aviva, the football club's main sponsor, which now has the chance to leverage its links with Premier League football in other markets where the English game attracts huge followings. Indeed, Gooding is alert to anything that can build the reputation of Aviva, which has grown to become the world's fifth-largest insurer.
In the UK, Aviva has become synonymous with the series of TV commercials created by Abbott Mead Vickers BBDO featuring Paul Whitehouse and showcasing the range of financial services it has to offer. And Gooding believes the campaign has worked well in helping define a brand that, she acknowledges, had been well known but not for anything in particular.
However, among the other 27 countries for which Gooding has responsibility, her job is much more complex because the evolvement of the brand - and what it stands for - varies significantly between markets. In some, Aviva is primarily a business-to-business operation. In others, including the UK, Ireland, France and Poland, the company has a much bigger consumer and direct business that operates exclusively through intermediaries.
That each market is at a different stage of the journey is reflected in the fact that Aviva hasn't adopted a global strapline to deliver against its reported £150 million global marketing budget, almost a third of which is spent in the UK.
In the US, the talk is of "an insurance company built around you". In France, Aviva claims to offer "insurance in your image" - although Gooding concedes that the true sense of the line gets a bit lost in translation. In India, the cricketer Sachin Tendulkar fronts a campaign promoting an insurance policy that allows parents to cover the costs of their children's education. "It's not about one size fitting all," Gooding explains. "It's about offering things that are appropriate to the market we're in."
There's one overriding problem, though. How do you win back consumer confidence at a time of financial uncertainty? "We work in a difficult economic climate and in a sector where there isn't a great deal of trust," Gooding admits.
Not the best of times to ditch such a long-standing and well-known name as Norwich Union, you might think. But Gooding claims the decision has been vindicated by the fact that Aviva reached awareness levels similar to those of Norwich Union within just nine months after the 2009 rebranding operation began. The company now claims to have a relationship with one in three UK households.
For her, the achievement is testimony to the success of establishing a clear objective - to become the most recommended insurance brand - and to installing the right structure to help realise that ambition. "Advocacy and trust are very important to us," she says.
That's meant putting marketing at the heart of the operation. Gooding cites the fact that Amanda Mackenzie kept her place at the top table throughout the rebranding - and remains there. "There was no cabinet reshuffle," Gooding points out. "As a result, we've done so much to improve our marketing communications. We're very clear about what we want the brand to be."
At the same time, there's been a streamlining of agency suppliers. Having BBDO act as the lead creative network for most of Aviva's markets has now been mirrored in its media arrangements. The list of six media networks with which Gooding used to work has now been pared down to just one - ZenithOptimedia, which won the global account in January last year.
Out of all that came the Whitehouse campaign. Although the comic actor was used initially to endorse the general insurance part of Aviva's activity, Gooding believes his character has succeeded in the difficult job of becoming a spokesman for the company's whole business. "Paul has high recognition because he's a fantastic actor.
Everybody forgets that," Gooding declares. "He evokes laughter and poignancy and people really engage with and like the scenarios."
The campaign pushed the boundaries with a film emphasising the importance of parents ensuring their families are financially secure after their death. In the spot, Whitehouse plays a father watching his wife and children prepare for a holiday. Only at the end does it become clear that he is a ghost. The commercial prompted complaints to the Advertising Standards Authority, which declined to order it off-air. "It was such a powerful and difficult subject for advertising," Gooding admits. "But it has boosted our life insurance sales."
Nevertheless, she's adamant that the Whitehouse work is very much a bespoke campaign for the UK and stresses the need for tailored campaigns for all Aviva's major markets. "We're not in the business of lifting and shifting advertising from one country to another," she says. "We're not trying to do advertising on the cheap."
The widespread lack of public respect for financial institutions has concentrated Aviva's mind on corporate social responsibility initiatives. Gooding says the group's association with charities dedicated to helping street children across the world is a logical extension of what has been a long-term involvement in its local community.
"Aviva offers its customers prosperity and piece of mind, things that these children may never have," she says. "This association not only engages our employees but is important to our shareholders and will be increasingly visible to our customers. It's more important than ever that brands are seen to be giving something back."
THE GOODING LOWDOWN
Keeping it in the family
Fate seems to have marked out Jan Gooding for a top marcoms job. Born in Manchester, she was brought up in the Bahamas, where her father worked as a tax-avoidance expert alongside Bob Pringle, whose son, Hamish, is the outgoing IPA director-general. Her ex-husband, Hugh Burkitt, is the Marketing Society chief executive and her sister, Tessa, is the IPA's head of communications.
Switched on by Selfridges
Armed with an economics degree from Cambridge, her first job was as a graduate trainee at Selfridges. Her time there included a two-week stint in the ad department: "I was captivated by what makes people buy what they do."
Knocking on the door
Ted Bates, on the lookout for somebody with retail experience, gave her a passport into adland. This was followed by stints at Fletcher Shelton Delaney and Burkitt Weinreich. As a founder of the Blue Door marketing consultancy, she worked on the development of the Johnnie Walker "keep walking" campaign.
The Mackenzie break
Since then, she has followed in the steps of Amanda Mackenzie, now Aviva's chief marketing officer. The pair worked together at BT and British Gas, and linked for a third time when Gooding joined Aviva as its marketing operations director in 2008.