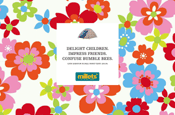 The outdoor and camping retailer has approached a number of London agencies direct.
Millets' advertising was formerly handled by Miles Calcraft Briginshaw Duffy. The agency created an award-winning brand campaign for Millets, including the long-copy ad "long list", which won Best Individual Advertisement at the 2006 Campaign Press Awards.
Blacks suspended the Millets brand advertising campaign in January after issuing its third profit warning in a year.
Since then, advertising activity was limited to supporting store openings on a local basis, although MCBD continued to work on a number of projects, including a pop-up press ad to advertise the retailer's range of pop-up tents.
The company finally parted company with the agency in March following a change in marketing arrangements which coincided with the closure of 45 Millets and Blacks stores.
In its most recent annual results, the company reported a pre-tax loss of £13.8 million for the year to March 2007. It blamed a warm, dry summer, the mild winter and a resurgent Marks & Spencer for poor sales. Blacks has also been hit by an increase in the number of supermarkets stocking camping equipment.
Last week, the Blacks chief executive, Russell Hardy, agreed to step down by mutual agreement with the board. Keith Fleming, the Blacks finance director, has been named acting chief executive while the company seeks a replacement.