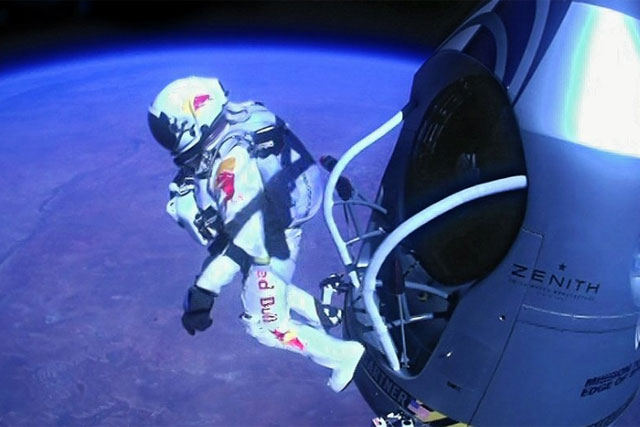 Danny Rogers, the editor of Campaign, kicked off a lively debate with a panel of top London-based creatives by asking whether the industry had become "more afraid to take big risks".
This divided the panel, with Engine's Steve Aldridge and TBWA\London's twin creative directors Steve and Nick Tidball arguing that the explosion of media channels meant that modern campaigns needed to take risks just to get noticed.
Steve Tidball cited Red Bull's Stratos campaign as a paragon of risk-taking marketing, which he likened to French newspaper L'Auto's creation of the first Tour de France in 1903.
Tidball said: "If we're going to draw parallels between risk and marketing, it's all very well to liken that to: is a marketing director going to get fired or is a brand going to lose its status? But then you have this whole other level, which is: in trying to sell more product, are you going to kill somebody?
"That is what Stratos did so effectively, in that they put a man's life on the line. So, if you talk about risk, I think there are brands out there that are doing extraordinary things.
"You have to go back a hundred years ago to find something as extraordinary and extreme, with the invention of the Tour de France, which was originally an advertising campaign by L'Auto [designed] to shift more papers.
"They did everything they could to make it as dangerous as possible – there were bear attacks, poisoning, punch-ups – and for me, the next big thing was Red Bull Stratos 100 years later.
"And I think the rewards of risk-taking activity now are more extraordinary than ever, because when the Tour de France invented itself, it sold some newspapers in France – when Red Bull had a man jump from space, the world watched."
Caitlin Ryan, Karmarama's group executive creative director, and Crispin Porter & Bogusky's joint-ECD, Matt Gooden, both countered that most clients – in the UK in particular – had become more risk-averse, which Ryan said could be blamed on the recession.
Ryan said: "The recession creates an atmosphere of fear, which makes it very difficult for clients to put their neck on the chopping block [and] you end up needing much more sign-off, which can water down an idea quickly."
Gooden added: "The UK and the rest of the world are two different things. There are some great things going on in the rest of the world. In the UK, I think there's a real lack of ambition from clients to be honest. It's pretty woeful, to be honest.
"There are a few exceptions and I think when clients are willing to take risks they really reap the rewards and Paddy Power is a great example of that."
For all the latest news and gossip from Advertising Week Europe visit our live blog, LIVE@AdvertisingWeek.